The Villanova fan base is relatively unique in that it is filled with smart students who generally know basketball well. As a result, constant themes emerge throughout the season in the student section. Yes, Jay Wright isn't very creative with his inbounds plays. Yes, Mouph never dunked the ball. Not that it's always criticism from the students. We saw one nice Dylan Ennis dunk and now can safely assume he will be All-Big East this season.
My name is Jordan Sperber, I am a Villanova student and write about college basketball at my site called Hoop Vision. We are in the process of a website move, but you can find my writing from last year here(and Nova specific posts here and here). My basketball analysis is heavily dependent on the use of advanced statistics, but I also frequently breakdown X's and O's in my work too. The idea that stat geeks don't watch the game is generally very inaccurate, but for me I'd like to think it is even more incorrect than usual.
I am excited to focus my writing more on Villanova this season. The plan going forward is to give reality based analysis of what's happening on the court. Both validating and debunking different student section narratives in the process.
Obviously we are still months away from having basketball games to dissect, but for the time being I want to look at the prudent questions that should be on our minds entering the 2014 season. Last season, the team defense was good and the team offense was not so good. I definitely want to get into what made the defense good last year at some point, but this post covers what I think will be the single most important topic for the upcoming season: The development of Ryan Arcidiacono.
JayVaughn Pinkston was the most important offensive player for Jay Wright last year. He drew a ridiculous 7.7 fouls per 40 minutes last season and shot 49% from two. Yet Pinkston is a bit of a known commodity at this point. Sure, he would become one of the best players in the Big East with a consistent three point jumper, but more likely than not he will stick with attacking the basket and putting the pressure on defenses inside.
Still, this year's team has a long ways to go to be good offensively.
Darrun Hilliard exceeded all reasonable expectations last season, but he's much better suited as a third or fourth option that can score 20 a few times a season without demanding the ball too much. Ennis brings athleticism to the table and he shot the ball pretty well at Rice, but it seems likely that he will be a low volume offensive player as he adjusts to better competition. Essentially, what I'm trying to say is that there will be plenty of offensive possessions for Arcidiacono this season.
The rising-sophomore excelled at getting to the line last season and shot a team best 82% when he got there. However, a big chunk of these free throws came from end of game intentional fouling. Point guards as a whole benefit greatly from these situations where the game is more or less in hand and stats are inflated. Arcidiacono took more threes (217) than any other Villanova player since Randy Foye and Allen Ray both did it in 2006. Only three other freshmen in the entire country took over 200 threes, and Arcidiacono shot the lowest percentage among them. It's not that he is a bad shooter (I think the opposite is true), he just had too big of a green light to fire away last season.
Advanced stats in basketball do an extremely good job of measuring offense. On the other hand, Defense is a bit trickier to work out. The combination of two metrics provides the context needed to evaluate offensive performance. The first is called offensive rating (ORtg). This is the points a player produces per 100 possessions. In other words, efficiency. The second is usage (USG%), which is how often a player is responsible for ending a possession (is used). Great players rank highly in both efficiency and in volume. There's also a natural trade-off between the two.
All else equal, raising one variable will almost certainly lower the other in the long run. The key is to find the right role for every player. Just as a reference, LeBron James had a USG% of 30.2 and an ORtg of 125 for the Heat this season. For Villanova, Pinkston was the most used offensive player and Yarou was the most efficient.
Arcidiacono was third on the team in volume and fourth on the team in efficiency in his freshman season. It's important to remember that he was a true freshman playing in a high major conference. I took a look at every freshman point guard who received significant playing time in a major conference below. I highlighted a few household names along with Arcidiacono: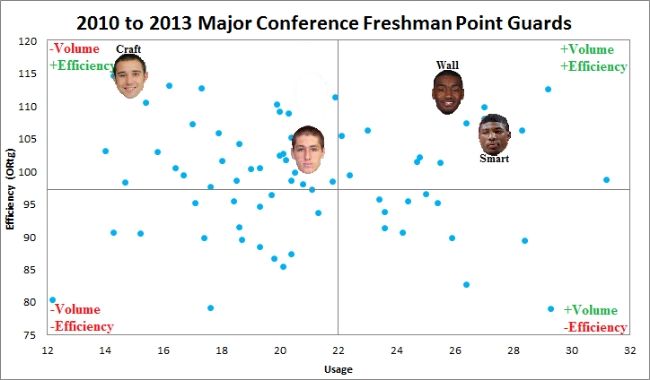 The top right quadrant is the ideal place to be. Of course not everyone on the floor can be a go-to guy, and someone like Aaron Craft can still be a useful offensive player in a supporting role.
Arcidiacono comes in slightly above average compared to recent freshmen point guards. Looking at his freshman performance is fine, but what we really want to know is what we can expect going forward. I used the graph above to look at what recent history says. I should note that I classified a player as a point guard simply using assist numbers. Therefore, this list includes some play-making combo guards too.
The dots near Arcidiacono are freshman point guards who had similar offensive success in year one. I limited my search to freshman with usage within +/- 1% and efficiency within +/- 5 of Arcidiacono. Four players emerged that now have at least two years of college basketball under their belts:

Start getting optimistic about Arcidiacono this season. All four players took a major step forward as sophomores in one of these two categories.
Now, I'm not trying to make the case that freshman Shabazz Napier and freshman Ryan Arcidiacono were similar stylistically. Among point guards, Napier had one of the quickest first steps in the Big East last year while Arcidiacono had one of the slowest. However, the bottom line is these five guards all got similar results in similar roles as freshmen.
Arcidiacono's precise role as a sophomore is anyone's guess right now, but the point here is that we should expect a better offensive player regardless. If Ennis or Hilliard step into big roles, expect a much more efficient Arcidiacono. If Ennis and Hilliard are role players, expect a higher volume Arcidiacono that doesn't sacrifice (hopefully still gains) efficiency.
In the end, there's a reason why Arcidiacono and the rest of these freshmen guards received significant minutes from the moment they stepped on campus. Recent history says that we will soon begin to see why Arcidiacono was the most relied upon Nova freshman since Scottie Reynolds.